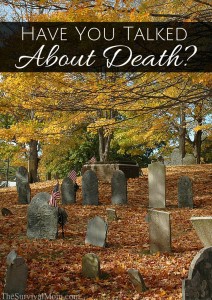 It may not be a tornado or EMP that creates an end-of-the-world situation for you. It may be a car accident or a heart attack. Death will come to us all, but are you prepared for what you need to do when a loved one dies, especially your spouse? Have you talked about death?
When my husband deployed, talking about death was part of the checklist. It's called estate planning, but in all essence it is talking about what happens if he were not to come home.
A death of a spouse is a very emotional time. Planning funeral and memorial details can be hard amidst the grief. If you discuss details beforehand, and maybe even have them written down somewhere, you will know what to do and not need to think about those details. You will know your wishes will be honored and you will know what to do for your spouse.
It's not fun or pleasant to talk about. Humans tend to live like we think we'll live forever. Discussing it before it happens can make things much easier for the person left behind, though. Here are some tips about what topics to discuss as a couple and some questions to ask.
Do you know what you and your spouse wants if you can't make medical decisions?
The first step is to talk about what you would want to happen if you ended up on life support or in a coma. Do you want to remain on life support indefinitely or not? Do you want to donate organs? The second step is to either put it in writing with a living will or Do Not Resuscitate order or to designate a medical power of attorney. If you post this on the refrigerator, First Responders and family members can quickly find it in an emergency.
The medical power of attorney can be your spouse, if you are sure he or she would follow your wishes. Copies of the paperwork should be filed with your doctor and medical records, and in a safe place in your home where your spouse can access them.
Do you and your spouse have a will?
Laws vary by state as to what is required for an official will, but even having a will in writing with your signature is better than nothing. Certain states, though, will not honor wills that are not in line with their laws. Your family may follow your wishes, but if there is any contention, it has to be a legal will to be enforced. Make sure to check what is required in your state and check a new state when you move.
Who do you want your assets to go to? Who do you want to appoint to make sure the actions in the will are followed through (executor)? Even though most spouses set up their wills so everything goes to each other, are there heirlooms that you want passed on to certain people? If something were to happen to both of you, who do you want taking care of your children and pets, if you have any? Put wills in a safe place in your home and give a copy to whomever you set up as executor. Let several loved ones know where they can find a copy of your will.
If one of you has children from a previous marriage, that will affect how you divide your assets and life insurance policies. It also makes custody arrangements more difficult.
Do you know what kind of funeral/memorial you and your spouse wants?
Do you want a simple or elaborate funeral? Will it be open to just family or to everyone? Will there be a viewing or wake? If there is a memorial, will it be at a church and which one? What do you want to happen at the graveside? Are there certain songs, poems or verses you want included? Will there be photos or a video at the memorial?
Who will write the obit and what details will it have in it? What photo do you want to go with the obit? Do you want people to donate to a charity in your name? There are a lot of details in the funeral and memorial. For more topics, visit this list of 100 details to think about .
Do you know where you and your spouse want to be buried?
Do you want to be buried, put in a mausoleum, or cremated? If cremated, what do you want done with your ashes? Do you want to be buried together? Are there any religious factors to consider with a cemetery? Is there a family plot and do you want to be buried there? If you grew up somewhere else, do you want to be buried there or where you live now? Does the type of coffin matter? Do you want to be buried with anything or nothing at all? Is there a certain outfit you want to be buried in?
All of these questions should be discussed with your spouse. Funeral costs can even be paid for in advance if you and your spouse know what you want to do and where you want to be buried. This can relieve some of the burden of decisions for those left behind.
Do you have a way to pass on memories of you and your spouse?
Photo albums, scrapbooks, journals, and letters are ways you can pass along family history and memories. Letters written to your spouse and children that are to be opened upon your death can bring comfort to those left behind. Place these in a safe place in your home. Take the time to digitally archive photos and scrapbooks so they can be passed on to more than one person and so you have a backup.
Have all important documents in order.
Having a binder with all important documents can also help you if a spouse dies. You may need his or her birth certificate, any military records, W-2s, deeds, titles, insurance policies, banking information, loan information, stock information, proof of citizenship, etc. Having wills, power of attorneys and funeral wishes in this binder would also be helpful. Keeping family contact information up-to-date and in this binder can also help when you need to inform family members of a death.
Another topic to discuss is passwords, e-mail, and social media accounts. Does your spouse have a way to access all important online accounts, both financial and personal? Do you want your e-mail and social media accounts shut down and can your spouse do that?
Take some time soon to talk to your spouse about death and all that surrounds each. You will both rest easier knowing each other's wishes and you will be prepared in case tragedy visits your family.
Have you and your spouse talked about your wishes? What other topics should be covered?
Source:thesurvivalmom.com