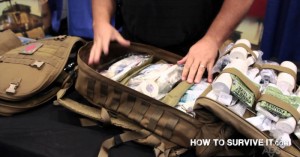 Ask any prepper what their most important piece of gear is and you'll hear a variety of answers, but the least common answer will be a first aid kit. To make matters worse, the kits that most people do have are so poorly equipped they are almost useless.
You are far more likely to find yourself in a situation where you must administer first aid than in a self-defense situation, yet hardly anyone in our community would consider leaving home unarmed—so what logical reason could you have for not carrying a properly equipped first aid kit?
Your daughter might think Hello Kitty band-aids are cute, but you need something more effective. You can get by, as people have done for decades, with gauze pads and a strip of cloth, also known as a pressure bandage, but you can't beat an Israeli Battle Dressing
for wounds with heavy bleeding.
QuikClot gauze
is used by law enforcement, paramedics, and military. This is not standard gauze though; it's designed for severe wounds that won't stop bleeding with pressure alone, like deep lacerations or gun shot wounds. You pack this specialized gauze, which contains a clotting agent, into the wound and then apply a pressure bandage. It's important to inform emergency personnel  that you used QuickClot, because doctors will have to take certain precautions when removing it to properly treat the victim, otherwise, they could cause additional damage.
Gauze pads are handy in a variety of first aid situations—especially when used with a pressure bandage, but after suffering several serious wounds over the years, I've developed a special appreciation for the non-stick type
because it makes changing the dressing much less painful. Toss about 20 pads into your kit in a Ziplock bag and you should be prepared for most scenarios.
Tourniquets have gotten a bad rap but the last decade of combat in Afghanistan has taught us that reputation is undeserved. Eventually, every wound will stop bleeding; the only question is whether that happens before or after the victim is dead. Extreme injuries, such as severed arteries, or even limbs often require a tourniquet
; without one, the victim can bleed out in a matter of minutes.
An unconscious victim may be unable to breathe because their tongue and throat muscles relax and obstruct their airway. A nasal airway
device (which includes lubrication) is inserted to provide a semi-rigid airway, aiding continued breathing. This isn't a buy and forget type of item though, its use requires training and practice.
Nitrile gloves
are like an armor-plated version of latex gloves that will aid in keeping additional contaminants out of the wound while protecting you from bio-hazards. You'll never have a completely sterile environment in the field, but these gloves will help you come as close as possible.
Was this info helpful? Share it with your friends!
Source:howtosurviveit.com